Home
»
PRAGUE INFORMATION
---
PRAGUE INFORMATION
Welcome to PRAGUE-VACATION ´s Prague Tourist Information & Travel Guide site.
As we would like to be your best TOURIST GUIDE in PRAGUE we have preapared some useful information for you about Prague and Czech Republic, to make your holiday as perfect as possible. Here you can find a wide range of useful tourist information about PRAGUE as important phone numbers, information about Prague public transportation, actual exchange rates, valid currencies and information for drivers.
PRAGUE is an amazing city and thanks to its beautiful historical monuments, reasonible prices and maybe also thanks to its cheap and tasty beer is one of the most visited city in Prague.
Important Telephone Numbers and Addresses
| | |
| --- | --- |
| Emergency call phone | 112 |
| Ambulance service phone | 155 |
| Fire emergency phone | 150 |
| Police phone | 158 |
| Municipal police phone | 156 |
| Emergency road service phone | 1230, 1240 |
| General information phone | 12 444 |
| Directory inquiries (Prague and the whole Czech Republic) phone | 1180 |
| Directory inquiries (international) also on services and prices – both telephone and fax numbers phone | 1181 |
National Dialling Code of the Czech Republic: 00420
---
Customs requirements
Without permission foreign visitors are allowed to export goods from the Czech Republic for their personal use only or as a gift. For the citizens of EU the same regulations are valid as in all the countries of EU. If the exported goods require any special legal permission (e.g. protection of cultural monuments, objects of museum value etc.) they must be presented to customs officials on departure.
Important customs offices:
Celní úřad Praha
(Prague Customs Office)
Prague 1, Washingtonova 11
phone
+420 261 334773
Celnice Ruzyně
(Ruzyně Customs Office)
Prague 6, Aviatická 12/1048
phone
+420 220 113 100
Website: http://www.mfcr.cz/cps/rde/xchg/mfcr/hs.xsl/en.html
Postal services: http://www.cpost.cz/en
Main Post Office – Prague 1, Jindřišská 14 - daily non-stop, rest. period 24-02
Local phone calls from public telephones CZK 4,-
Telephone cards in the value of CZK 200,- and 300,- are available at newsagents´ and tobacconists, post offices, departments´ stores, hotels, travel agencies, etc.
---
PRAGUE PUBLIC TRANSPORTATION
Tariffs
Transfer tickets
Tickets for two fare zones can be used 75 minutes from validation. On working days from 08.00 PM to 05.00 AM and on Saturdays and Sundays round the clock such tickets can be used 90 minutes from validation.
For adult persons over 15 years its costs 26 CZK
For children from 6 up to 15 years inclusive it costs 13 CZK
Non-transfer tickets
apply to trams and buses 20 minutes allowing no change. On the Metro such tickets are valid for the distance of 5 stations from the station of validation (not including the station of validation) allowing to change between the lines A,B,C, but no longer than 30 minutes. These tickets do not apply to night routes and funicular railway.
For adult persons over 15 years it costs 18 CZK
For children from 6 up to 15 years inclusive it costs 9 CZK
Short-term tickets
24-hour ticket: 100 CZK
3-day ticket (72 hours): 330 CZK
5-day ticket (120 hours): 500 CZK
More info on: Fares in Prague
---
CURRENCY
Czech Republic became a member of Europien Union in May 2004; but it will take few more years when EUR will be a valid currency in our country. At the moment the valid currecny is the CZECH CROWN (CZK). You can check here the valid czech paper moneys:
www.cnb.cz
CREDIT CARDS
It is not a problem at all to use it, it is acceptable nearly in every restaurant, shopping centre, tourist centers, bars and pubs, pensions and hotels.
ATM machines
In the city centrum you can find them nearly on every corner, in the undergrounds, at the banks and in the shopping centres.
CHANGE
In the city centrum you can find plenty of them but be careful, because the most of them charge an extra comission intead of they they present that there is not comission. We highly recommend the KAPROVA 15 EXCHANGE, located at the Old town square where they do not charge any extra fees. To check the actual exchange rates click here: www.exchange.cz
A perfect calculator has also the Komercni banka: http://www.kb.cz
---
IMPORTANT INFORMATION FOR DRIVERS
Are you coming to Prague by car? Then it is deffinitely very usefull to find out some information about local TRAFFIC REGULATIONS, about Motorway Tools, the cost of the Petrol, or for which Border to decide, so you do not have to wait for a long time.
All these handy information are provided by our local carclubs: www.uamk.cz
Are you afraid that your car might get broken during a long journey? Do not panic! Just remember this unique telephone number 1230, on which motorists can ask for help in emergency situations and whenever needed. Calling from abroad, the number will be preceded with the country and city code: ++4202 1230. This service is available 24 hours a day and 365/366 days per year.
We wish you a safe and pleasant trip on the road!
---
Prague Museums - List of Free Admission
Which museums to go to and save money throughout the year.
The Museum of the City of Prague in Florenc where you can see e.g. the newly installed Langweil's miniature model of Prague, a number of temporary exhibitions and, of course, an outline of Prague's history. The museum offers an entrance fee of 1 CZK every first Thursday of the month, from 9 a.m. until 8 p.m.
The Custom House Vyton is a part of the Museum of the City of Prague and it offers a unique exhibition of the history of the river Vltava. The museum offers an entrance fee of 1CZK for children every first Thursday of the month.
The National Museum in Wenceslas Square with free entry every first Monday of the month.
The National Gallery offers free entry to its permanent exhibitions every first Wednesday of the month from 3 p.m. until 8 p.m. The director of the National Gallery suggests that the building in Veletrzni Street be free of charge all year round. He claims that the 20 million CZK collected from the entrance fee is not such a sum that the State could not do without it.
The National Museum of Agriculture located in Kostelni Street in Letna is free of charge every first Wednesday of the month.
The Museum of the Prague Waterworks in Podoli water filtration plant (operated by Veolia, Prague Water Supply and Sewerage Company offers a unique insight into a water treatment plant and into the history of water treatment. It is mainly sought by specialists who come from all over the world to see this unique place. It is only open after previous booking and the tour is free of charge. A visit can be arranged on the phone number: 272 172 344
The Lobkowicz Palace, located in Jirska 3 – Prague 1, is free of charge every first Wednesday of the month. The Palace is the exhibition banner of the National Museum and unique exhibitions have been held there recently.
The Naprstek Museum in Betlemske Square – Prague 1,is free of charge every first Friday of the month.
The Czech Museum of Music located in Karmelitska Street in Prague 1, under which also comes The Bedrich Smetana Museum on Novotneho lavka has free admission every first Thursday of the month.
The Museum of Decorative Arts in 17. listopadu Street is free of charge every Tuesday from 5 p.m. until 7 p.m.
The Military Museum in Zizkov offers free admission all year. Apart from its permanent exhibition of military development, temporary thematic exhibitions are held there. A number of other exhibitions are a part of this museum – the Museum of Aviation in Kbely, The Lesany Museum where heavy military machinery can be seen seasonally.
Saint Vitus Cathedral has been free of charge since the beginning of the year 2007 when it was adjudged to the administration of the Office of the President of the Republic.
The Old Town Hall, the Hall of Architects dedicated to exhibitions of architectural development of different parts of the city. Exhibitions here are usually free of charge.
for more information visit: www.praha.eu
---
Top 10 Prague surprises
Hidden sculptures, kitsch museums and quirky carnivals are some of the treasures uncovered by Sarah Johnstone on a truffle-hunter's city tour
Sarah Johnstone
Wednesday October 24 2007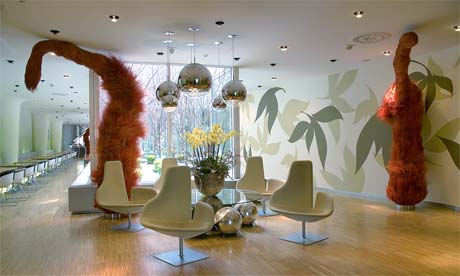 Day of the triffids ... 'sci-fi meets jungle' in the design at Hotel Yasmin
1. David Cerny's cheeky sculptures
From most Prague vantage points, you can see his giant babies crawling up the Zizkov TV tower. But David Cerny, Czech enfant-terrible-in-chief, has laid several artistic booby traps across the capital waiting to captivate unsuspecting passers-by. His retort to the famous equestrian statue on Wenceslas Square is in a nearby arcade, where the "good king" hangs from the ceiling astride the belly of an upside-down, dead steed with its tongue protruding. A Sigmund Freud character dangles by his fingertips from a pole above Husova Street. Outside the Kafka Museum, "Proudy" provokes the most laughs, as two computer-controlled cybermen write famous literary quotes in watery "piss". You can even send them a text message and they'll change mid-flow to pee it.
2. World's only cubist lamppost
What happens when Czech designers tussle with cubism in 3D? The result is a unique genre of fractured clocks, zigzagged crystal-shaped boxes, chairs with spiders' legs, buildings like concrete origami – and this 1912 streetlight, looking every bit a clunky-footed chess piece. Although in hectic Nove Mesto, Emil Kralicek's masterpiece is tucked away behind the shoe store Bata, making it feel like a personal discovery. For more, head to the Museum of Czech Cubism and its reconstructed cafe.
3. Carnevale in Zizkov
Move over Venice and Cologne, there's another European carnival city. Stifled under communism, the Czech Masopust festival reemerged in Prague's working-class Zizkov district in 1993, and this annual five days of pre-Lent revelry spread to the central city in 2007. Zizkov still has the most raucous celebrations, though, and hosts the final Mardi Gras costume parade. Among all the street theatre, music, masked balls, fireworks, occasional Good Soldier Svejk costumes, free pork and beer, Zizkov's mayor ceremonially hands political control to Bacchus and goes to serve the public food.
4. Funky designs at Qubus and Modernista
These two stores, selling some of the same products, are the perfect antidote to the capital's reams of twee cut-crystal. Wild-haired young Maxim Velcovsky and his Qubus partner Jakub Berdych have won plaudits for designing Wellington-boot porcelain vases and thin-stemmed wine glasses modelled on disposable plastic cups. Modernista adds toy Skoda cars and humorous contemporary pieces like Jiri Pelcl's sperm-shaped teaspoons, but focuses on Bauhaus-inspired tea services, 1930s reclining armchairs and other 20th-century Czech classics.
5. Boho-chic Karoliny Svetle
SoNa, the south of Narodni area once talked up as the city's hippest quarter, is dead. Smothered by hype probably. While it doesn't have a successor, you can enjoy a smidgen of alternative shopping along Karoliny Svetle, a long thin lane north off Narodni. Toalette (No 9) is helping to lead a growing local vintage-clothes scene, while Pavla & Olga (No 30) is said to have dressed supermodel Tereza Maxova and Britpoppers Blur. Despite its Afghan Kabul restaurant, Duende Latin bar and five-star hotel Pachtuv Palace, it's still never going to rival Shoreditch. However, it is interesting. One of the best veggie restaurants in town, Lehka Hlava, also lies off it.
6. Gay Vinohrady
Prague nightlife is no longer confined to drunken stag parties rampaging through Wenceslas Square and causing headaches for the British Embassy. While a lot of that still goes on, of course, a convivial little gay and lesbian scene has developed just 10 minutes away in the Vinohrady district. Here, half the city's gay bars and clubs nestle within roughly a square kilometre, led by three-story super-club Valentino and Termix, with its 'Hezky Cesky' (hot Czech) evenings. Brit-run Saints has an online guide to the quarter.
7. Hotel Yasmin's triffids
Among emerging Czech design hotels, it's cheering to find one with a sense of humour. Hotel Yasmin's whimsical style begins with its signature leaf print and black Philippe Starck bathrooms and erupts into the "sci-fi meets jungle" look of its public rooms. Even the silver ceiling orbs, en route to its highly recommended Noodles restaurant, are overshadowed by the furry, orange-red twisted sculptures that customers have dubbed "triffids". It's all courtesy of Studio Mimolimit, which designed Prague's renowned Kampa Park restaurant.
8. Urban scuba-diving and skiing
I saw my first Prague dive shop in gritty Zizkov, an area famed for its numerous pubs, and mistook it for a theme bar. However, it turns out the city really does have a hardcore scuba-diving community, who scour the murky Vltava river for interesting finds beneath the castle ruins of Vysehrad or alongside Charles Bridge. And at least one has English-speaking instructors. There are more downtown sports in snowy winters, when game snowboarders and skiers lug their gear onto the funicular train up Petrin Hill.
9. Miniatures and Barbies
Both these collections will make you smile and are brilliant for kids. At the modest Miniatures Museum (tel +420 233 352 371; Strahov Monastery; 10am-5pm) you peer through microscopes and magnifying glasses at displays such as a flea with golden horseshoes, tiny camels biblically passing through the eye of a needle, and what is allegedly the world's smallest book. On the top floor of Prague Castle's Toy Museum (tel +420 224 372 294; Jirska 6; 9.30am-5.30pm) it's Barbies - hundreds of them - as far as the eye can see.
10. Sweet Cukrkavalimonada
Whenever you need a sugar boost, there's always Mala Strana's delightful Cukrkavalimonada cafe, for an unusual hot chocolate you'll never forget – and probably never manage to finish. Its dark "superior 70%" variety wavers between a lip-smacking cocoa volcano and an unfeasibly rich primordial swamp, making Swiss, if not Mexican, equivalents taste positively wimpy. Spend the increasingly long pauses between delicious sips perusing the blackboard menu of homemade pasta or surveying the modern twist on a medieval ceiling.
Sarah Johnstone is the author of Prague Encounter, part of Lonely Planet's new series of guides written by residents.
---
PLACES OF INTEREST
The interiors of the historic monuments are accessible to view with the ticket of Prague Castle Administration. The gardens of Prague castle are open daily 10 a.m. - 6 p.m. (free entrance).
Monuments accessible with a ticket
The Old Royal Palace, the St. Vitus' Cathedral - the historical part (the choir, crypt and tower), the basilica of St. George, the Mihulka ramparts, the Golden Lane are part of sighseeing tour of the Prague Castle.
The most of the monuments are accessible for the wheel-chairs. St. Vitus Cathedral (the main entrance), Old Royal Palace (Vladislav Hall), St. George Basilica, Prague Castle Gallery, Royal Summer Palace, Ball-game Hall, Imperial Stables, Spanish Hall, Rudolph's Gallery from the Broad Corridor, the Gardens of the Prague Castle, WC near St. Vitus Cathedral.)
Tours for visitors (types of tickets)
Prague Castle – long tour
Old Royal Palace, permanent exhibition "The Story of Prague Castle", St. George's Basilica, Convent of St. George – National Gallery, Golden Lane with Daliborka Tower, Prague Castle Picture Gallery
Prague Castle – short tour
Old Royal Palace, St. George's Basilica, Golden Lane with Daliborka Tower
Prague Castle Picture Gallery
Permanent exhibition "The Story of Prague Castle"
Convent of St. George – National Gallery
Admission Fee to Historical Premises of Prague Castle
| Type of ticket | Full admission | Discount (*) | Family admission (*) |
| --- | --- | --- | --- |
| Prague Castle – long tour | CZK 350 | CZK 175 | CZK 500 |
| Prague Castle – short tour | CZK 250 | CZK 125 | CZK 300 |
| Prague Castle Picture Gallery | CZK 150 | CZK 80 | CZK 200 |
| Permanent exhibition "The Story of Prague Castle" | CZK 140 | CZK 70 | CZK 200 |
| Convent of St. George – National Gallery | CZK 100 | CZK 50 | CZK 150 |
* Admission Fee Reductions
youth at the age of 6–16
secondary school and university students of the full-time study until 26
family (at least one child at the age of under 16 with max. 2 adults)
seniors past 65
Discounts afforded only upon presentation of a valid card or full-time study paper.
---
CHARLES BRIDGE / Karlův most
Charles Bridge joins Old Town (Stare Mesto) and the Little Quarter (Mala Strana) and is one of the world's most beautiful bridges. The bridge was built in 1357, but the figures of saints were added during the 17th century. They symbolise the confidence of the Catholic Austrian's triumph over the Protestant Hussites. The bridge is thronged all day with tourists, while at night it offers wonderful views of the illuminated castle and Old Town. Go at dawn to be alone and witness the saints emerging from the mist.
---
WENCESLAS SQUARE / Václavské náměstí
Wenceslas Square shy; is actually a boulevard running down from the National Museum and the equestrian statue of Saint Wenceslas to Můstek, formerly the site of of a city gate and drawbridge. This is where crowds traditionally come to demonstrate against their incomperent rulers, and this was where, in 1989, thousands gathered to shake their keys in celebration of the death of the Communist Party. Rows of shops, hotels (note the Art Nouveau glory of Hotel Europa) and nightclubs flank the pavements, and by night it can get a bit sleasy. Thankfully, there are plans to rid the square of cars, bury the highway in front of the museum in a tunnel and have tram N°11 make a come-back.
---
MUNICIPAL HOUSE / Obecní Dům
The magnificent Obecní Dům building holds two restaurants, a super café, an American bar, a gallery, shop and classical music venue. Built between 1905 and 1910 in the architecturally stunning Art Nouveau style, the Municipal House has been painstakingly restored to its former glory. It was here that the Czechoslovakian state was signed into being on October 28, 1918. It was also here in 1989 that communist bureaucrats and revolution leaders of the Civic Forum discussed the velvet transfer of power and the state's transformation to democracy.
---
NATIONAL THEATRE / Národní divadlo
This lavish neo-Renaissance building on the bank of the Vltava, with its golden crown of chariot-driving women, is Prague's National Theatre. The building was completed in 1881 and was almost immediately destroyed by fire. It reopened in 1883.
---
OLD TOWN SQUARE / Staroměstské náměstí
The indisputable heart of Prague. This vast open space is flanked by a pleasing blend of carefully restored architectural styles: Gothic, Renaissance, Baroque and neo-styles. The square is notable for its constant hum of activity, day and night, and a long history as centre stage for so many of the city's defining moments, from the execution of preacher J. Želivský in 1422, to the attacks on Soviet tanks with Molotov cocktails in 1968. Towering above the square, half-hidden behind a row of houses, is the fairy-turreted Týn Church. The centrepiece of the square is a memorial to Jan Hus. It was draped in swastikas by the Nazis and in black cloth to mourn the passing of the Prague Spring.
---
TOWN HALL 7 ASTRONOMICAL CLOCK / Staromestská radnice
The 14th century Town Hall complex features a tower with an astronomical clock, added in the 15th century. Every hour on the hour Jesus and his disciples lead a pageant that includes the allegorical figures of Death, the Turk, the Miser, the Fool and the Rooster. It sounds more impressive than it actually is, but it's still worth a look. The climb or lift up the tower is rewarded by the stunning views.
---
VYŠEHRAD
The rocky cliff-top boasts Prague's second castle. In the hearts and minds of many Czechs Vyšehrad symbolises the birth of the Czech nation and is shrouded in legend and myth. This is apparently the spot where Princess Libuše stood and predicted the rise of a great city. Literally translated as 'high castle', it was probably founded in the middle of the 10th century. In 972 Prince Boleslav II built the royal mint here, and in 1085 Vratislav II selected it as his residence. Over the following centuries successive kings remodelled the palace and fortress, but moved their permanent home across the river. Within the fortress confines is the national cemetery (Vyšehradský hřbitov), which from the 1870s became the final resting place of many of the most famous Czech writers and composers, including Jan Neruda, Bedřich Smetana and Antonín Dvořák.
---
Prague's Jewish community was one of the oldest in Europe, and rich in history, legend and tragedy. Here, the story goes, Rabbi Loew created the Golem nearly half a millennium ago.
The community was confined to a ghetto until 1781 when Josef II issued the Edict of Tolerance. This edict permitted the free exercise of religion and the secularisation of education, science and art. The Jewish town is called Josefov to this day in honour of Josef II.
The exhibitions of the Jewish Museum in Prague are located in six historic sites:
The Maisel Synagogue, The Pinkas Synagogue, The Spanish Synagogue, The Old Jewish Cemetery, The Klausen Synagogue, The Ceremonial Hall
Opening hour: November - March 9 am - 4.30 pm, April - October 9 am - 6 pm
The museum is open every day except Saturdays and Jewish holidays.
Entrance fees:
Adults: CZK 300
Under 15s, students and senior citizens: CZK 200
Under 6s: free
Tickets valid for the Robert Guttmann Gallery
---
International Dialing Codes
Australia: 0061
Austria: 0043
Belgium: 0032
Canada: 001
Denmark: 0045
France: 0033
Germany: 0049
Great Britain: 0044
Greece: 0030
Italy: 0039
Japan: 0081
Netherlands: 0031
Norway: 0047
Poland: 0048
Russia: 007
Slovakia: 00421
Sweden: 0046
Spain: 0034
Switzerland: 0041
USA: 001
Czech Republic: 00420
Embassies
Austria - Victora Huga 10, 151 15 Praha 5, phone 257 090 511, fax 257 316 045
Belgium - Valdstejnska 6, 118 01 Praha 1, phone 257 533 283 - 287, fax 257 533 750
Brazil - Susicka 12, 160 41 Praha 6, phone 224 324 965, fax 224 312 901
Canada - Muchova 6, 160 00 Praha 6, phone 272 101 800, fax 272 101 890
Denmark - Maltezske nam. 5, 118 01 Praha 1, phone 257 531 600, fax 257 531 410
Finland - Hellichova 1, 118 00 Praha 1, phone 257 007 130, fax 257 007 132
France - Velkoprevorske nam. 2, 118 01 Praha 1, phone 251 171 711, fax 251 171 720
Germany - Vlasska 19, 118 01 Praha 1, phone 527 531 481, fax 257 534 056
Great Britain - Thunovska 14, 118 00 Praha 1, phone 257 402 111, fax 257 402 296
Greece - Spanelska 14, 120 00 Praha 2, phone 222 250 955, fax 222 253 686
Hungary - Ceskomalinska 20, 160 00 Praha 6, phone 233 324 454, fax 233 322 104
Italy - Nerudova 20, 118 00 Praha 1, phone 233 080 111, fax 257 531 522
Ireland - Trziste 13, 118 00 Praha 1, phone 257 530 061, fax 257 531 387
Izrael - Badeniho 2, 170 01 Praha 7, phone 233 097 500, fax 233 097 519
Japan - Maltezske nam. 6, 118 01 Praha 1, phone 257 533 546, fax 257 532 377
Netherlands - Gotthardska 6, 160 00 Praha 6, phone 224 312 190, fax 224 312 160
Norway - Hellichova 1, 118 00 Praha 1, phone 257 323 737, fax 257 326 827
Poland - Valdstejska 8, 118 01 Praha 1, phone 257 530 388, fax 257 530 135
Russia - Pod Kastany 1, 160 00 Praha 6, phone 233 374 100, fax 233 377 235
Slovakia - Pod Hradbami 1, 160 00 Praha 6, phone 233 321 441, fax 233 324 289
Spain - Pevnostni 9, 162 00 Praha 6, phone 224 311 441, fax 233 341 770
Sweden - Úvoz 13, 118 01 Praha 1, phone 220 313 200, fax 220 313 240
Switzerland - Pevnostni 7, 162 01 Praha 6, phone 220 400 611, fax 224 311 312
Ukraine - Charlese de Gaulla 29, 160 00 Praha 6, phone 233 342 000, fax 233 344 366
USA - Trziste 15, 118 01 Praha 1, phone 257 530 663, fax 257 530 583
Prague Holiday Apartments right in the Centre. Accommodation in Prague Apartments, Prague hotels and pensions. Serviced and fully furnished Prague holiday apartments located in central Prague, Prague vacation rentals at the Charles bridge or Wenceslas square even from 16 EUR per person. Each apartment, hotel or pension is bookable online. Hotels and pensions in Prague guaranteed cheaper or same as the rack rates. Transfer services, Prague sigtseeing tours, river cruises, private guides, Prague beer tour packages, tickets to Prague cultural events. Prague Map as a welcome gift.